Wings Over Medford Lakes highlights the scenic views across the community-beautiful, serene, and lively!
One of my favorite things about Medford Lakes is the activity- before my wife and I purchased our Medford Lakes home, we would do the drive-by test in the different neighborhoods around Medford; Medford Lakes always had the most activity, in any season!  In the warm weather we would see BIKES!  Lots of bikes!  Kids ride their bikes everywhere, including school; if you are stopped by one of the friendly crossing guards around town you will see a parade of hundreds of youngsters on their way to and from school with their helmets on and book bags strapped to their bike.  You can see a glimpse of it with riders crossing the bridge at Beach 1 in the video at 1:54.
In the summer the Medford Lakes Colony Camp (which dates back to 1930!) kicks off an action packed season that spans July and August, culminating with the Canoe Carnival:
There are many organizations and activities for everyone in the family to get involved:
As a member of the Lenape Regional High School District, I know how good our schools are!  There are so many opportunities for academics, athletics and activities.  The students are well prepared, good kids.  It is truly a nice place to live and work!
On top of the more formal activities, we made many friends bumping into other young families around town or on the beaches.  Sharing the parenting experience makes it easy to relate!  Our little one is very friendly and she loves to swim and play on the playgrounds around town. Our favorite warm weather activities include lounging on the beaches, family bike (or surrey!) rides, playground play dates, walks to the local eateries- PJ Whelihan's, Riviera Pizza, LB Daniel's, Zinc Cafe, Old Nelson Deli, Otts Tavern...
On one particular occasion during the winter months, ice hockey and skating sealed the deal for our decision to buy a Medford Lakes home- there were hundreds of people out on the ice when the lakes were frozen.  I've never seen anything like it in all my years in NJ.  I was a hockey player growing up and I love that I can share ice time with my family!  Medford Lakes also has a few nice sledding hills!  It's a fun place to live, no matter the season!
We love Medford Lakes!  It's a great place to raise a family!
Homes in Medford Lakes
According to MedfordLakes.com, "Medford Lakes started as a resort with a unique concept, all construction would be made of log! Shiploads of cedar logs were imported and craftsmen fashioned them into palatial homes. Inside and out, the walls were of solid log. Some of the logs had their bark scraped off while other logs were used bark and all. Cedar, being a porous wood, is an excellent insulator so the cabins were cool in the summer and warm in the winter. The resort enjoyed an extended season because the big stone fireplaces could heat the rustic houses even in the chilliest weather."
The borough has a variety of log and traditional homes.  More than 10% of the borough's homes are log cabins.
Traditional homes vary in design and size, most in the 3-5 bedroom, 2-4 bath range.  Check out some statistics: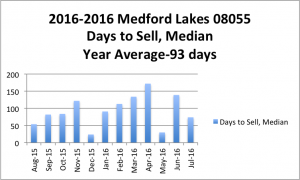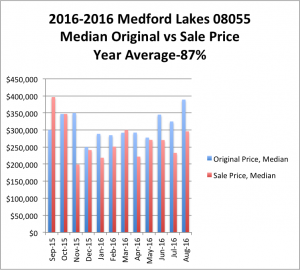 There is a home for every design preference!
Set up a search for your dream house or investment property today!
A quick conversation and we'll set up property searches with your preferences delivered to you instantly, as soon as they hit the market!
Just click:
CALL OR TEXT
SCHEDULE
and we'll get you set up!

Or schedule here: